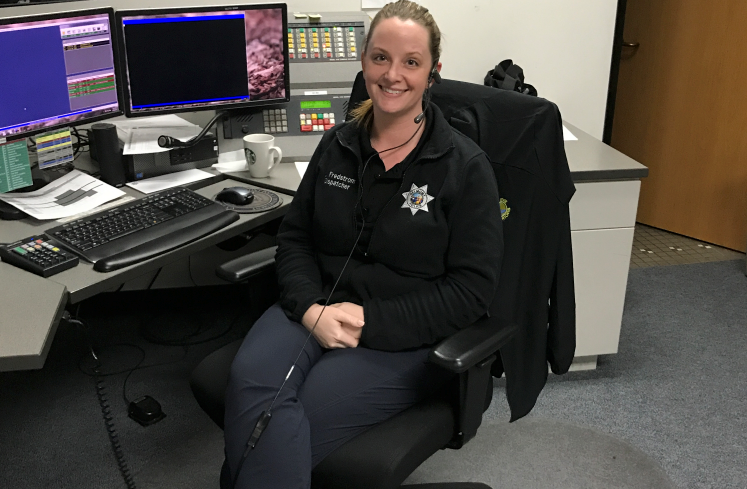 Jenn Fredstrom
In the early morning hours of August 5th 2017, Dispatcher Jenn Fredstrom was working as a dispatcher when Belmont Police Department received multiple 9-1-1 calls regarding shots fired at an apartment complex in Belmont. Jenn fielded all of these calls on her own and quickly put the information out to the officers working that morning. Dispatcher Fredstrom reacted quickly and used the San Mateo County Mutual Aid Channel to inform the county fire, medical and law dispatchers of what was occurring which assisted our department in getting expedited help from other agencies. This resulted in our ability to secure the scene, render aid to the victim, set up a perimeter and ultimately begin our investigation.
Dispatcher Fredstrom's outstanding call-taking and dispatching ultimately lead to one of our officers making a car stop on a vehicle fleeing the scene of the shooting. This car stop proved to be an essential element of our investigation which later allowed us to successfully identify and arrest the person responsible for the murder that took place that morning.
It is easy to forget the responsibilities assumed by a dispatcher working in the early morning with no records or support staff to assist them. Dispatcher Fredstrom took on the ultimate challenge when the emergency calls began coming in on the morning of August 5th. Jenn prioritized, multi-tasked and did a tremendous job of informing responding officers of the information that was frantically being provided to her. Dispatcher Fredstrom did an unbelievable job of representing the Belmont Police Department and served our community in the highest regard.
(Submitted by Belmont Police Department)